Which musical instrument is the best one to use?
If you are looking for a career in music then you should know which music instrument suits your personality. Which musical instrument you can play well and create magic. Creativity is the most important thing to be a successful and well known musician. If there is no creativity then there is nothing that will be loved by your fans. Every musician is known by his/her fans due to the creativity. It's not the equipment that makes them famous, it's the talent and creativity that make them known worldwide.
How music can teach you discipline?
Playing a musical instrument is a challenging task and to master any musical instrument, you should need to practice again and again to make yourself perfect for it. Practice and determination helps a musician to learn what discipline is. Best musicians in the world are master at their profession and they are well disciplined and humble.
How music teaches you time management?
It's not easy to learn and master a musical instrument, you need a lot of practice and learn how to manage your time accordingly. A good musician knows that time is more important and practice makes a musician perfect. A musician known it well that how to manage time accordingly and hence music is best practice to learn time management.
How music helps you to improve your social skills?
Many people join orchestras to learn and practice music and they meet different people over there. Later on, they become friends and sometimes they start behaving like a family. As they know how to co-ordinate with each other, it is very common that people find their lifetime friends in different musical activities.
How music is helpful to learn team work?
If you are learning and creating music by collaborating with different people and that makes you a band or group, you'll surely learn the discipline and teamwork. Without teamwork, it is not possible to learn and create the music that will be known by people over the world. To create a best and magical music, teamwork is necessary. Without teamwork, it is not possible to create the best music for your fans.
What are the benefits of being a Musician?
It is not easy to be a musician and especially it is not easy to be a well known musician. Musicians are packed with different skills and they have talent to create magic in your lives. A musician knows what teamwork is and how to deal with fame and how to deal people. A musician is a person, who knows about teamwork, time management, achievement, social skills. Music helps them to learn discipline and other necessary things to be a good human being.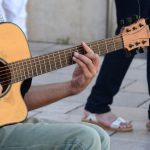 Music is something that is loved by everyone. Everyone loves music and different people of the world create their own different music. There are large number of music types and music equipments.